Overview
Headquarters: San Francisco, CA, USA
Description: A digital currency wallet allowing trader to buy and sell bitcoin.
Website: http://www.coinbase.com
24-hour trade volume: $117 M (GDAX)
Availability: US, Canada, Singapore, Australia, Europe and more
User Experience
Coinbase is a well-designed platform with an intuitive user interface, making it perfect for beginners as well as experienced traders. The navigation is simple and organized so anyone can find the information they're looking for. If you have any experience with mobile applications you could easily start buying and selling Bitcoin in less than 24 hours.
Yes — Thanks to detailed documentation and a full-featured mobile app, Coinbase is one of the most user-friendly cryptocurrency exchange products on the market.
Yes — Coinbase offers a robust support community with detailed documentation on a variety of frequently asked questions.
Compared to the majority of cryptocurrency exchanges, Coinbase offers a variety of support tools. Answers to most questions can be found in their detailed support documentation. If you have trouble finding an answer on your own, they've created a custom Coinbase chatbot to help guide you to the right answers. If all else fails and you have to submit a support request, don't plan on getting a quick response. This warning frequently appears on their support page:

Security
Tier 1 - $10,000 weekly buy/sell limit
Requires a verified account, but doesn't require a government issued ID
Tier 2 - $15,000 weekly buy/sell limit
Requires upload of government issued ID
Tier 3 - TBD
2-Factor Authentication
Yes — Coinbase works with the most popular 2FA applications including Google Authenticator, Duo, and 1Password.
Insurance
Yes — All digital currency that Coinbase holds online is insured. If you are a U.S.-based customer, your funds are FDIC insured up to $250,000. Less than 2% of customer funds are actually held online, just enough to cover regular transactions. The rest is held offline in cold storage.
Storage
98% of all funds are stored offline to protect against threat or loss. Coinbase uses geographically distributed safety deposit boxes around the world to store sensitive customer data.
Encryption
Yes — AES-256 Encryption (a.k.a. State of the art financial encryption)
Fees & Payment
Minimum Fee - Transactions under $200
Percentage Fee - Varies by region and payment type (1.49% - 3.99%)
Varies by country (Paypal (U.S. Only), Debit/Credit, Bank Account, Deposit)
BTC (Bitcoin)
LTC (Litecoin)
ETH (Ethereum)
Technology
No issues so far with reliability. However, I've heard from several sources that reliability has been an issue in the past.
Yes — Available on Android and iOS. I've had zero issues to date with any reliability on the app or web versions of Coinbase.
Coinbase FAQs
How to avoid Coinbase fees?
I've fallen into the Coinbase fee trap on more than one occasion. So if you find yourself paying 3% - 5% fees on Coinbase, you're not alone. Coinbase takes advantage of the fact that they're an easy-to-use platform by charging incredibly high fees. Luckily, with a little patience and planning, there is a way around these fees.
Follow these 10 steps to buy bitcoin, ether and litecoin without paying any Coinbase fees:
Create a Coinbase account After initial signup, you'll be prompted to confirm your email address, phone number and add a method of payment. It's much faster to just add a credit/debit card, however if you want to avoid Coinbase fees in the long run, you'll have to connect a bank account.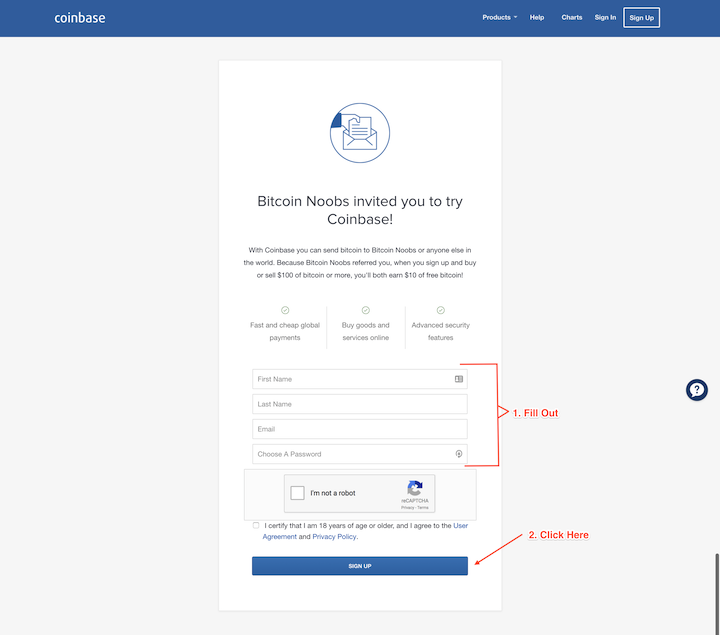 Connect a bank account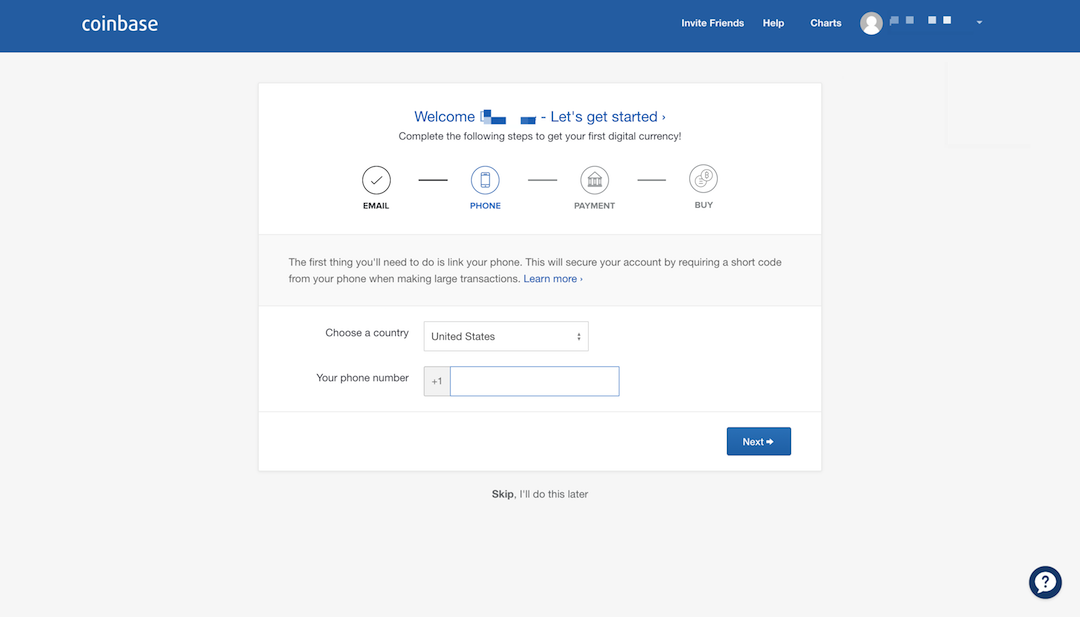 3. Verify your identity
Add funds to your USD wallet on Coinbase
Once your identity is verified and your bank account has been added, it's time to add funds to your USD Wallet. Click "Accounts" in the navigation and then deposit funds to your USD Wallet from your newly added bank account.
**Login to GDAX (using your Coinbase credentials)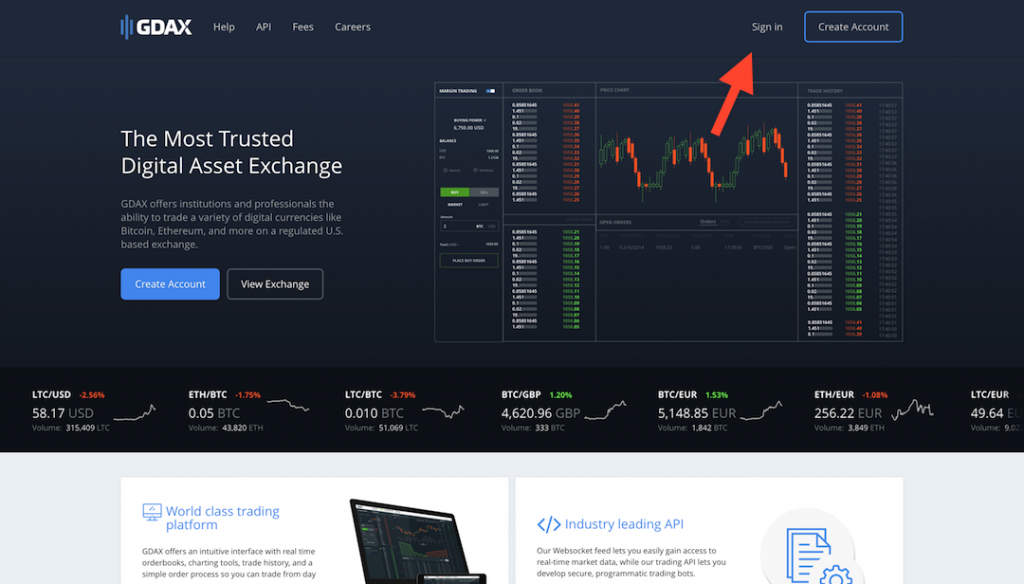 Deposit funds via Coinbase Account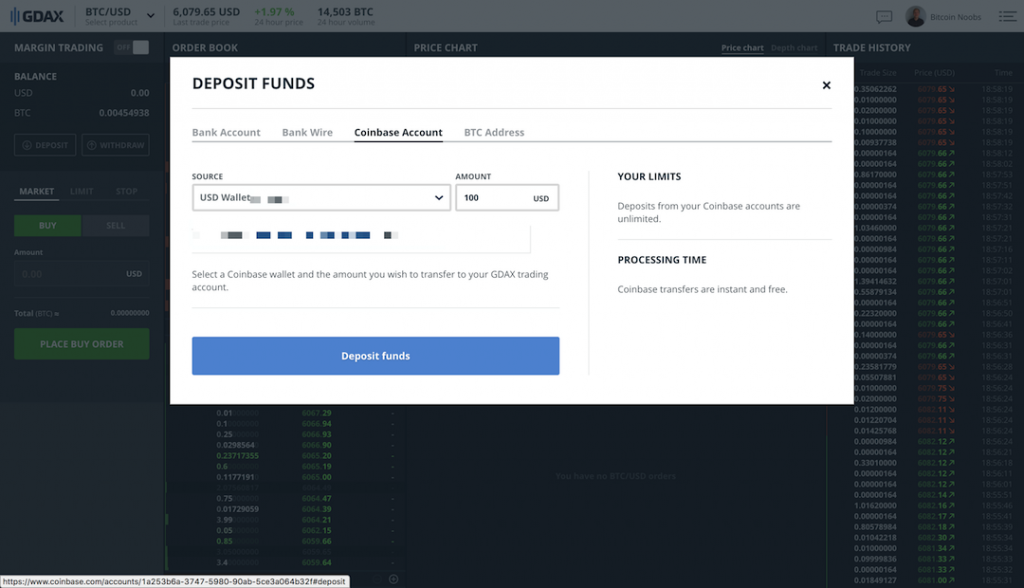 Create a limit order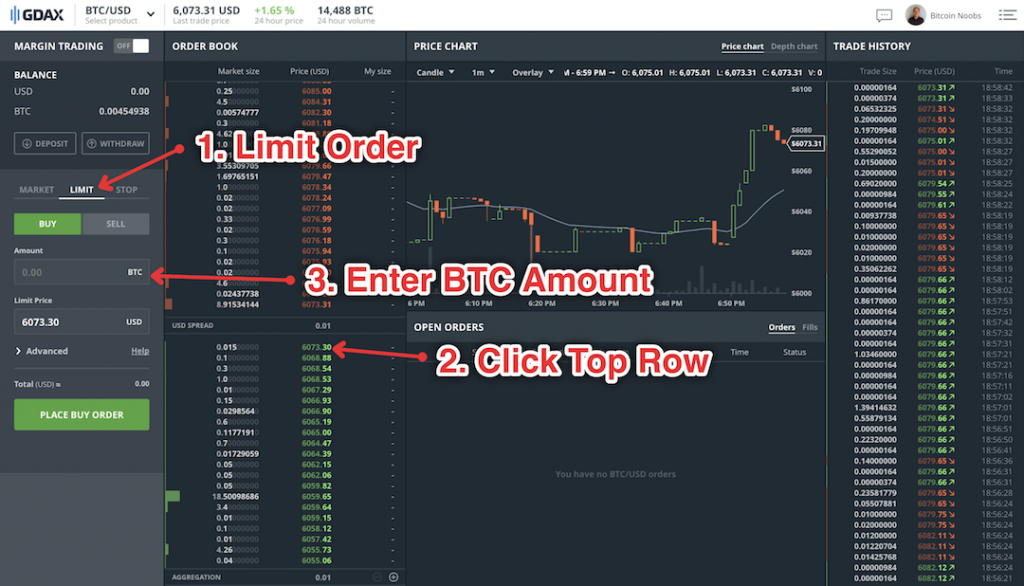 Click on the top buy order on the order book to set your limit price
Enter the amount of bitcoin you would like to purchase
Click buy (Your order should appear under open orders until it's filled)
Is Coinbase a wallet?
Bitcoin wallets are where you store cryptocurrency for safe keeping. Typically, the wallet provides some additional security and encryption versus just holding cryptocurrency in an exchange account. Coinbase is a unique company in that their service is both an exchange and a wallet. Coinbase has an excellent reputation in terms of security and by leaving your funds in a Coinbase Wallet they are protected, to a degree, from theft. All digital currency that Coinbase holds online is fully insured. But keep in mind that only 2% of their funds are stored online. The rest is held in offline storage. If you are a United States resident up to $250,000 is FDIC insured if held in your USD wallet. Coinbase also offers Vaults for additional security.
Is Coinbase instant?
Sort of. Coinbase will allow you to instantly receive bitcoin, ether, and litecoin only if you purchase with a credit or debit card. However, if you don't already have a credit or debit card linked to a Coinbase account then you'll have to wait for the verification process to actually be able to make an "instant" purchase. Coinbase did announce instant purchases for U.S. customers with linked bank accounts, but as one of those customers, I have yet to see this functionality in my account.
Is it safe to link a bank account to Coinbase?
From a technology standpoint, Coinbase is as secure as any leading financial institution in the United States. Coinbase boasts top notch security with AES-256 encryption, 2-Factor Authentication, and offline storage of funds. This level of security doesn't mean Coinbase is impervious to hacks, but relative to other FinTech applications Coinbase is very secure. If you're comfortable linking your bank account to Venmo or Mint, then you shouldn't be afraid to link your account to Coinbase.
Is Coinbase safe in 2018?
See previous question.
Has Coinbase ever been hacked or suffered a securit breach?
Although individual accounts have been hacked due to user error, Coinbase has never been breached.
Where is Coinbase located?
San Francisco, CA, USA
What is Coinbase Vault?
Coinbase Vault provides an additional layer of security and is perfect for companies or groups wishing to store cryptocurrency. In addition, Vaults offer custom withdrawal settings like delayed withdrawals and multiple approvers.
When did Coinbase start?
Coinbase was founded in 2012 by Brian Armstrong and Fred Ehrsam.