Headquarters: New York, NY, USA
Description: Security. Liquidity. Trust
Website: https://gemini.com
24-hour trade volume: $21 M
Availability: 45 U.S. States, Canada, Hong Kong, Singapore, South Korea, and U.K.
Looking for the best bitcoin exchange in 2018? Check out our Best Bitcoin Exchange Guide to compare all of the top cryptocurrency exchanges side-by-side.
User Experience
Design
The user interface is simple and easy to navigate but less impressive than GDAX, for example.
Beginner-Friendly
Yes - Account setup was incredibly user-friendly and made for a pleasant onboarding experience. Although it looks like verification might take some time, the process was easy to complete.
Documentation
Yes - Documentation for common questions exists but could be greatly improved upon. Most of the answers are very basic and I never came across additional details or instructional diagrams.
Customer Support
24-hour response time
Security
Verification Tiers
Account setup and verification required the usual documentation:
Name
Address
Social
Driver's license
I did not, however, have to submit a signed and dated photo which was nice.
How long does verification take?
It only took me 24 hours to get verified but I did see this warning after I submitted my info:

2-Factor Authentication
Yes — via Authy. I'm not sure if I just missed it, but it would be nice to be able to use Google Authenticator, or another 2FA option.
Insurance
Yes - U.S. funds are eligible for FDIC insurance. Not sure if that's some sort of legal workaround or just poor wording. Digital funds are not FDIC insured, however, the company is insured by a top-tier insurance company to protect against internal malfeasance.
Storage
Yes - the majority of digital assets are stored offline using cold storage.
Payment & Fees
Fee Structure
Transfer Fees (Deposits & Withdrawals)
Transfer Fees - 0 transfer fees to deposit or withdraw in crypto, wire, ACH, etc. However, banks may still charge a wire fee.
Trading Fees (Maker/Taker)
Gemini provides fairly detailed documentation on their fee structure, which is good given the complexity. Relatively speaking, their fees are very competitive and in most cases slightly less than other U.S. exchanges.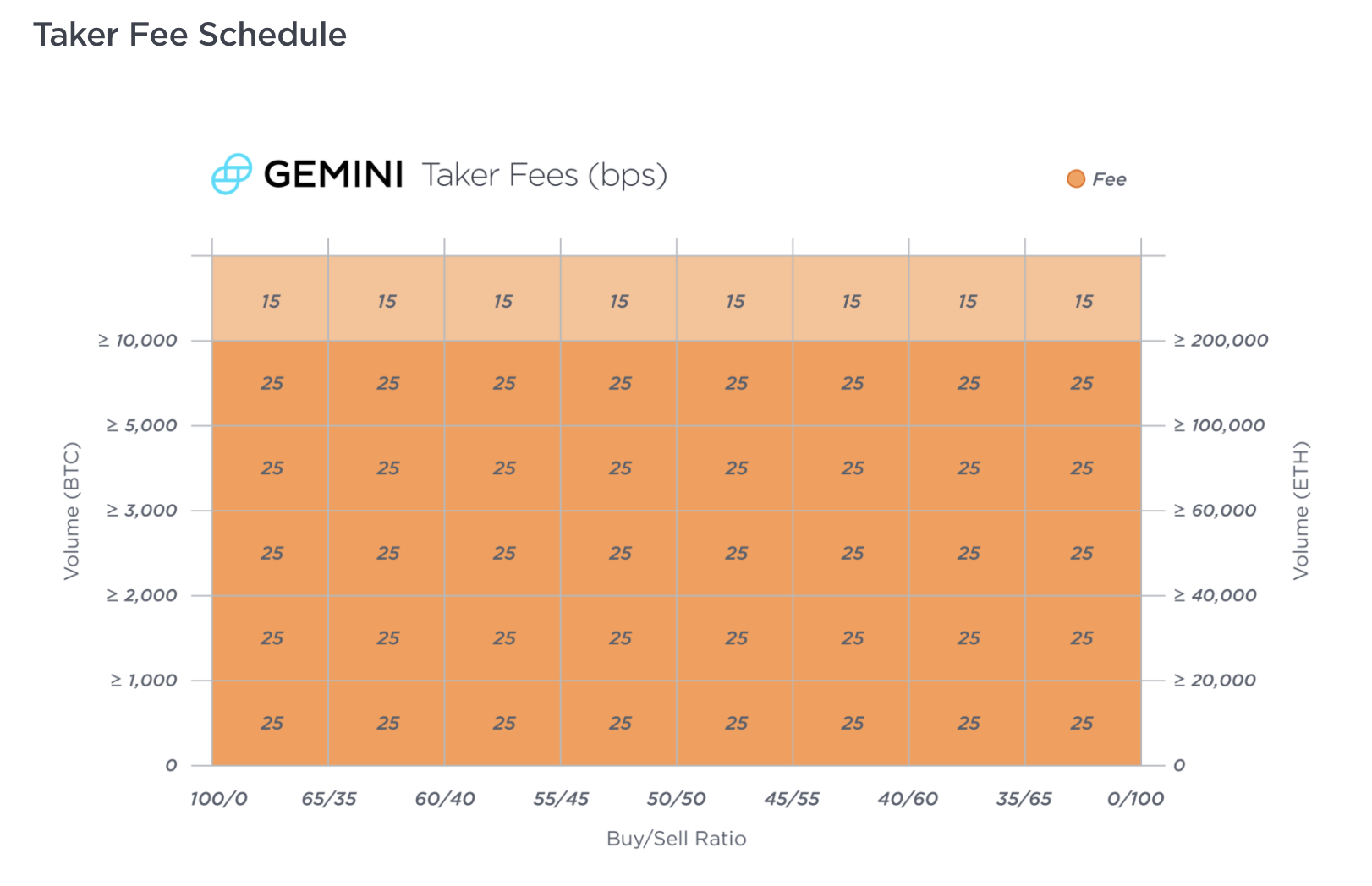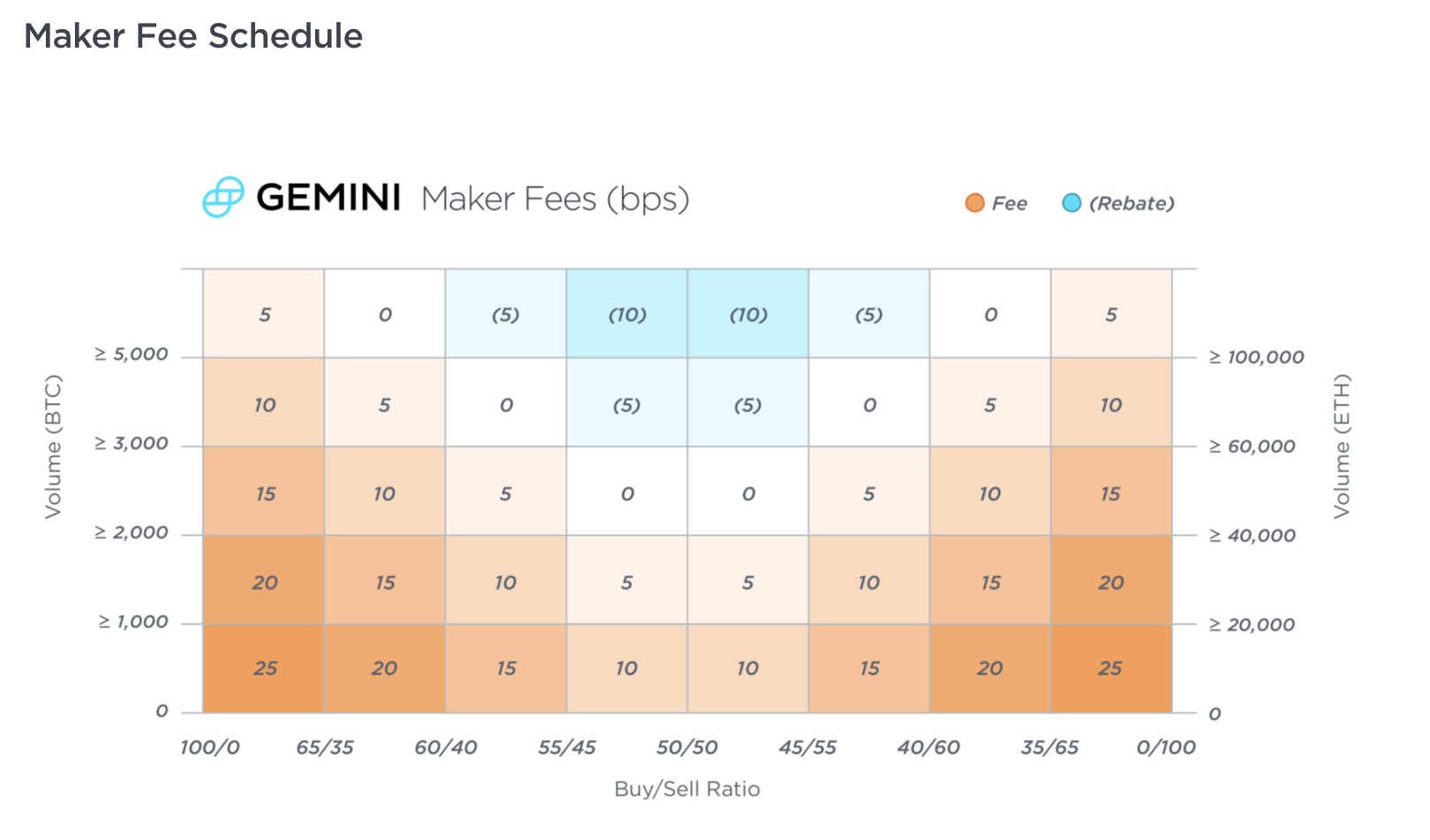 Accepted Payment Methods
Bank account (USD), bank wire (USD), BTC, ETH
Supported Trading Pairs
BTC/USD
ETH/USD
BTC/ETH
Technology
Site Reliability
I haven't had any issues with reliability on Gemini. They don't have a status page, so it's a little hard to know if other's have experienced outages.
Mobile App
No - The website is also not mobile friendly, which is surprising given the overall technical sophistication of the platform.
Gemini Alternatives